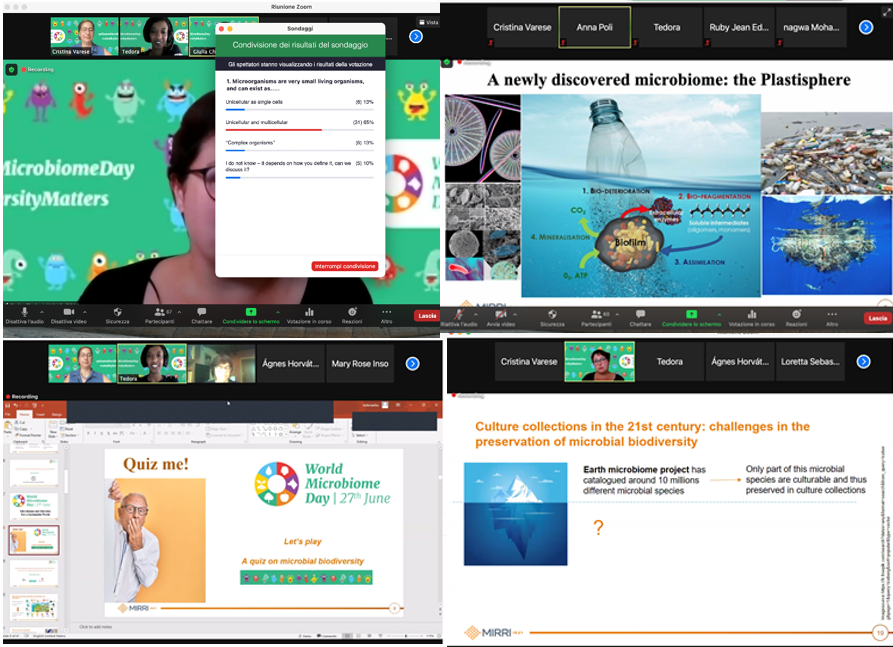 The partners of the H2020 project, IS_MIRRI21, launched a webinar on 27 June 2021 for the annual event of World Microbiome Day. The event aimed to approach members of the society to investigate and bring recognition to the value of microorganisms in the world. The webinar was organised by two experts and representatives of MIRRI partner organisations, Giulia Cheloni (National Research Institute for Agriculture, Food and the Environment, France) and Anna Poli (Università degli Studi di Torino, Italy) and other experts from the same institutions in France (Marwa Zaarour) and in Italy (Cristina Varese). The webinar had four main sessions, i) Demo about Microbiome and Microorganisms for a Sustainable World ii) Quiz on microbial biodiversity and sustainability, iii) a presentation on Culture collections and their role in microbial biodiversity preservation and exploration; and finally, iv) how IS_MIRRI21 intends to strengthen the impact of culture collection by connecting them. 
One of the key objectives of the event was to present how EU-funded projects such as IS_MIRRI21 are supporting the research and innovation ecosystem. In addition, an overall overview of how culture collections are used to preserve biodiversity and the roles of microbes in the sustainability of the environment was presented. Moreover, a video demo was used to explore the world of microorganisms and introduced the importance of the microbiome. The presentations were made with the intention of fostering ideas to build a sustainable world through the exploration and exploitation of symbiotic relationships between large- and micro-organisms.
This was followed by an enlightening quiz on microbial biodiversity to later be used as a trigger for curiosity and debate during the Q&A session. A total of 77 participants attended the webinar, which was concluded with a heartfelt enjoyment and excitement for the next event. The webinar recording can be viewed here.
Care to join us in our next public engagement event, subscribe to our newsletter, and get the most recent updates and announcements! Subscribe here.
Contacts:
For more information and feedback, please contact us at: franciscorocha@spi.pt; tedoraaibu@spi.pt