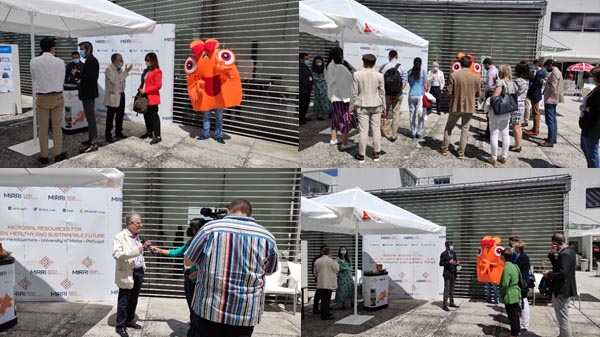 MIRRI was honoured with a visit from a delegation of 40 Economic Advisers and other members representing 27 countries from the European Commission on 8 June 2021. The Directorate-General for Economic Activities (DGAE) and the Portuguese Permanent Representation to the European Union (REPER) organized a tour across several institutions including Centre of Biological Engineering (CEB) at University of Minho (UMinho) and International Nanotechnology Laboratory in Braga, Portugal.
Under the scope of the Portuguese Presidency of the European Union Council, the delegates had an overview of the industrial, technological and innovative initiatives from the North of Portugal. MIRRI, with headquarters at UMinho, was selected among few research project and spin-offs, to take part in the exhibition and showcase its work. MIRRI's Team presented its mission, organisation and activities, and disseminate its Strategic Research & Innovation Agenda 2021-2030. In addition, the Portuguese Society of Microbiology (SPM) availed a mascot SACA (representing Saccharomyces Yeast) to MIRRI to promote the upcoming International Microorganism Day, on 17 September, 2021.
Nelson Lima, Head of MIRRI-PT and H2020 IS_MIRRI21 Project Coordinator, and the MIRRI Central Coordinating Unit members – Luís Soares, Bassem Kheireddine and Ana Ferreira, represented MIRRI in the event. The team engaged with the countries' representatives with the aim of fostering the promotion of activities and enlargement of MIRRI with new entities from the public, private and industrial domains.