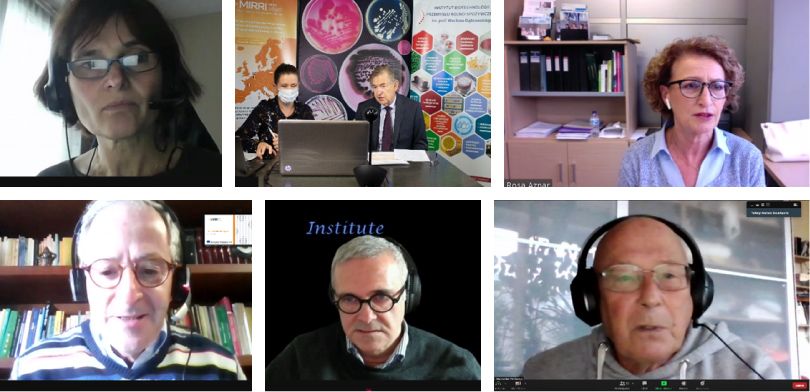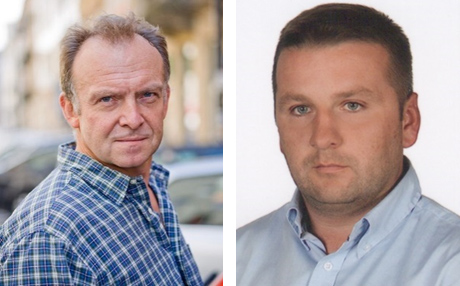 Pictures from left to right – Marleen Bosschaerts, Joanna Bucka-Kolendo and Artur Hugo Swiergiel, Rosa Aznar, Nelson Lima, Vincent Robert and Alexander Wasilenko.
IT support team from left to right – Greg Adach, Marcin Sokolowski.
The IS_MIRRI21's Partner Institute of Agricultural Food Biotechnology prof. Waclaw Dabrowski located in Warsaw (IAFB) organised and broadcasted the first workshop in the forthcoming series of workshops. The workshop titled 'Implementation and Sustainability of Microbial Resource Research Infrastructure for the 21st Century', was addressed to Culture Collection partners from a variety of fields to integrate them as Potential Partners for the pan-European RI, MIRRI. A total of 64 participants were connected with us during the workshop. Artur Hugo Swiergiel, the Director of Institute and Leader of WP8, opened the workshop and introduced the known microbial resources and the activities of IAFB in IS_MIRRI21. The Belgian Coordinator of Culture Organisms- Marleen Bosscharets, presented a topic about the structure and history of MIRRI as well as how the position of MIRRI looks in the Research Infrastructure landscape. Furthermore, Marleen shared knowledge about the activities and mission of MIRRI-ERIC as a European Research Infrastructure. Thereafter, the project coordinator, Nelson Lima, introduced the goals and services of IS_MIRRI21 and explained how to be a member and observer in the project. Rosa Aznar, who is a coordinator of Spanish Type Culture from Valencia, and Vincent Robert who is a Leader of the informatics group from Westerdijk Fungal Biodiversity Institute from Netherlands discussed about multifunctional virtual platform. We also had the opportunity to hear first-hand experiences from Alexander Vasilenko, a representative of the All-Russian Collection of Micro-organisms from Russian Federation Partner.
We would like to thank again all participants and partners for joining us. Soon, the WP8 team from IAFB will organise a workshop for stakeholders from other countries who are not involved in the IS_MIRRI21 project.
Publisher: Kamila Daniluk, Microbiologist from Institute of Agricultural Food Biotechnology prof. Waclaw Dabrowski